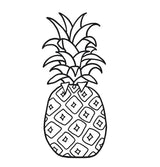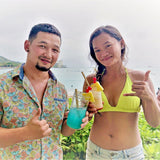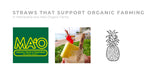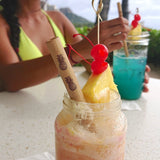 Pineapple - Straws that Support Organic Farming
Initiative 
In Partnership with Ma'o Organic Farms
DESIGN: Pineapple
No panic!!! Go organic!!! Ma'o Organic Farms is a social enterprise working on building a future of ma'ona, plenty. MAʻO is an acronym for Mala ʻAi ʻOpio, meaning youth food garden.Their mission is to connect the youth back to the land through the daily practice of aloha aina, empowering youth to succeed in college and securing sustaining careers, and growing organic produce that yields individual and communal vitality.
Website
https://www.maoorganicfarms.org/donate
Description
When you purchase Strawaii, you :
Help to eliminate more than 500 plastic straws from our oceans and landfills!

Are helping protect Hawai'i's biodiversity and native flora by eliminating invasive bamboo from our land.

Are creating local jobs in Hawai'i to provide financial stability to its communities! Mahalo
Our straws are special because they are:

Organic
Reusable
Compostable
Food-grade
100% Chemical-Free
Naturally Antimicrobial
BPA-free & Lead-free
Good for hot & cold beverages
Never soggy and uncomfortable 
Boil & dishwasher-safe
Artistically handcrafted with love
Encourage a lifestyle in harmony with nature
Available Sizes :  length between 7 - 8.5 inches. 
Coffee/Beverage (diameter: 0.5-1 cm) - Perfect for your hot tea or coffee in the morning!

Please note:  cleaners don't fit inside the coffee-sized straws due to the inconsistency of the natural coconut husk fibers and the hand-making process, and the natural variation in bamboo wall thickness.

Smoothie (diameter: 0.75-1.25 cm) - A slightly wider inside diameter straw, perfect for smoothies and shakes.
Bubble Tea - (diameter 10mm (.4 in)  - These straws were designed for bubble tea, big enough for tapioca balls, bubbles, and fruits. The end of these straws are also pointed to easily pierce the drinks cover.  (Length: 6.5-9 in)


The first bamboo straws organically grown + handcrafted in Hawai'i 💛

Strawai'i is made with YOU in mind and with minimal impact to the environment.
1. STRAWS THAT EMPOWER WOMEN
In Partnership with Women's Fund of Hawai'i
DESIGN: Hula Girl
51% of the US population is female. Many women in our communities face challenges that hinder their success, such as sexual assault and poverty. Let's face it. Our communities thrive off women. If our women succeed, our communities succeed. Strawai'i partner Women's Fund of Hawai'i empowers women and girls through their support of innovative grassroots programs helping women realize their full potential, providing women with leadership, stability, and financial security, and addressing the factors that stand in their success. Empowered women, empower women.
2. STRAWS THAT RESCUE CATS & DOGS
In Partnership with Paws of Hawai'i
DESIGN: Paw Prints
Rescue with heart. The most loving and caring friends we know are our pets. They provide us with a sense of comfort and companionship every day. Approximately 6.5 million cats and dogs are left neglected every year. They all deserve a safe and loving place to call home. Strawai'i partner Paws of Hawaii rescues and fosters many cats and dogs on our islands by providing the essential care they need and a loving home. Every animal deserves proper treatment, well-being, love, and quality of life. Again, they are man's best friend.
3. STRAWS THAT Support Organic Farming
In Partnership with Ma'o Organic Farms
DESIGN: Pineapple
No panic!!! Go organic!!! Ma'o Organic Farms is a social enterprise working on building a future of ma'ona, plenty. MAʻO is an acronym for Mala ʻAi ʻOpio, meaning youth food garden.Their mission is to connect the youth back to the land through the daily practice of aloha aina, empowering youth to succeed in college and securing sustaining careers, and growing organic produce that yields individual and communal vitality.
https://www.maoorganicfarms.org/donate
4. STRAWS THAT Preserve Rainforests
In Partnership with Lyon Arboretum

DESIGN: Hibiscus
Tucked in the back of Manoa valley resides Lyon Arboretum, one of Oahu's largest botanical gardens. Partnered with the University of Hawai'i, Lyon Arboretum conducts research on various tropical plants and endangered endemic Hawaiian plants. The public can not only enjoy the beauty of this garden, but also participate in the diverse programs the arboretum offers in terms of plant diversity and forest sustainability.
https://manoa.hawaii.edu/lyon/support/donate/
5. STRAWS THAT SAVE OUR MARINE ANIMALS 
In partnership with Sharktastics
DESIGN: Shark
Have you ever seen a piece of plastic wash up on shore? Most likely, you'll see some bite marks on it, which could have been a fish or a shark. Sadly, many of our marine life have ingested little pieces of plastic throughout our oceans. Sharktastics aims to take a bite out of marine debris pollution.
http://www.sharkastics.org/about-1.html
6. STRAWS THAT SAVE OUR MARINE ANIMALS 2
In Partnership with Hawai'i Marine Animal Response
DESIGN: Kohola & Nai'a
Monk seals and turtles commonly rest on the beautiful shores of Hawai'i, however there have been many incidents of human disruption. Thankfully with the help of all the amazing Hawai'i Marine Animal Response( HMAR) volunteers, our monk seals and turtles can rest in peace.
7. STRAWS THAT PROTECT OUR OCEAN
In Partnership with Papahānaumokuākea Marine Debris Project (PMDP)
DESIGN: Honu
Marine debris and plastic pollution. An estimated 115,000 pounds of derelict fishing nets are found in the coral reefs of Papahānaumokuākea every year. It is common to find seabirds ingesting plastic debris, endangered Hawaiina monk seals and threatened green sea turtles entangled in derelict fishing nets. Papahānaumokuākea Marine Debris Project (PMDP) protects the wildlife and critical habitats of the Papahānaumokuākea Marine National Monument (PMNM) that encompasses 583,000 square miles of deep ocean and uninhabited islands. Through their amazing work, they have 431 metric tons of derelict nets, saved 87 Hawaiian monk seals (only 1,400 left) from entangled nets, and continue to protect this sacred area. Protect what you love. Together we are united by the ocean.
8. STRAWS THAT SAVE SEAHORSES AND SEADRAGONS
Seahorse Hawai'i Foundation
DESIGN: SEAHORSE
Have ever gone deep diving into the ocean and encountered a seahorse? Long before seahorses and seadragons were rare, they frequented every ocean within 20 -100 feet deep. Unfortunately due to habitat loss and overfishing, the seahorse population all around the world has declined and they are highly endangered. Strawai'i partner Seahorse
Hawai'i Foundation works on research and propagation in saving these species and continually inspires ocean conservation through their projects. Save the Seahorses. Save the Reefs.
9. STRAWS THAT SUPPORT Pride LGBTQ
Hawai'i LGBT Legacy Foundation
DESIGN: Slippers
Love is love. The Hawai`i LGBT Legacy Foundation is committed to a legacy of hope, equality and unity. We help our community live happy, healthy and productive lives as an integral part of the larger diverse community that is Hawaii.
https://hawaiilgbtlegacyfoundation.com/honolulu-pride/
10. STRAWS THAT SUPPORT SPECIAL OLYMPICS
Access Surf Hawai'i
DESIGN: Surfboard
In following the spirit of Duke Kahanamoku, AccesSurf continues to be a pioneer in the advancement of adaptive water sports, ocean recreation, and therapeutic instruction for people with disabilities throughout the state of Hawaii and worldwide.
https://www.accessurf.org/

11. STRAWS THAT TEACH OUR KEIKI
Kokua Hawai'i Foundation
DESIGN: Sunrise Aloha
Kokua Hawai'i Foundation supports environmental education in schools and communities throughout Hawaii 'i. Through their programs ('Aina in schools, Field Trip Grants, Project Grantsm 3R's school recycling program, and Plastic Free Hawai'i), students recieve hands-on experiences enhancing their appreciation for and understanding of their environment. These programs leave a long lasting lesson learned on how everyone can be stewards of the aina.

https://kokuhawaiifoundation.org/getinvolved
12. STRAWS THAT Prevent Overfishing
Paepae O He'eia
DESIGN: Moorish Idol (Triggerfish)
Paepae o He'eia is a private non-profit organization dedicated to caring for He'eia Fishpond – an ancient Hawaiian fishpond located in He'eia Uli, Ko'olaupoko, O'ahu. This organization works in partnership with landowner, Kamehameha Schools, to mālama He'eia Fishpond for the community and serve as kia'i to this precious resource and treasure. Their vision is to perpetuate a foundation of cultural sustainability for the
communities of Hawai`i through education. Their mission is to implement values and concepts from the model of a traditional fishpond to provide intellectual, physical, and spiritual sustenance for our community.
13. STRAWS THAT SUPPORT OUR TROOPS
In Partnership with Disabled American Veterans Charitable Service Trust
DESIGN: Aloha
Suicide is a serious public health issue. According to the World Health Organization (WHO), there are estimated 800,000 suicide deaths a year globally. In 2019, over 6,000 U.S veterans died from suicide. Many of our men and women who serve our country need our help and aloha. Strawai'i partner Disabled American Veterans Charitable Service Trust takes care of our veterans by providing care, rehabilitation, and support that they suffer from the physical and mental impact of their military service. We honor and stand with our troops.
14. STRAWS THAT RESTORE OUR WATER
Malama Maunalua
DESIGN: Seashell
Malama Maunalua was founded in 2005 with their vision to bring Maunalua Bay back to balance, where marine life is abundant, the water is clean and clear, and people take kuleana to caring for the bay. Maunalua Bay once was the largest fishpond on Oahu, now due to recent development and habitat destruction, the bay is in a slow decline. This nonprofit commits to restoring the health of Maunalua Bay through habitat restoration, science and planning, and education and outreach. Their work is driven by community members who help improve the quality of Maunalua Bay because they believe the bay is worth saving and its decline can be reversed. There are many opportunities to volunteer with Malama Maunalua through their Huki project, Plant a Tree, Save the Sea program, and Seagrass Restoration Initiative.
https://www.malamamaunalua.org/
15. STRAWS THAT SAVE ENDANGERED PLANTS
In Partnership with Ohia Legacy Initiative
DESIGN: Ohia
The ohia lehua tree is one of the first plants to grow after a lava flow. Due to Rapid Ohia Death (ROD), our ohia lehua trees have been decreasing in our forests. The Ohia Legacy Initiative started to help educate the public about the importance of our ohia lehua in the forest, as well as in the Hawaiian culture.
16. STRAWS THAT PROTECT OUR SOIL (or eliminate herbicides and pesticides) In Partnership with Herbicide Free Campus
DESIGN: Bee
Using hands, not herbicides! Unfortunately, not all of our landscapes are herbicide and pesticide free, which violates our human right to health and safety. Strawai'i partner
Herbicide Free Campus is a coalition of students, professors, scientists, environmental lawyers, and social justice organizations that work together to eliminate synthetic herbicides on their campuses. They envision a toxin-free world where we create a more safer sustainable living by starting locally and advocating for organic land management. Our generation and future generations deserve clean soil and the right to health and safety. Decolonize aesthetics!
https://www.herbicidefreecampus.org/
17. STRAWS THAT PROTECT Native Forest Animals
In Partnership with The Pueo Project
DESIGN: Pueo
The Pueo Project is a conservation effort formed at the University of Hawaii at Manoa. Pueos or Hawaiian Short-eared owls are important to the Hawaian ecosystem because they control population sizes by preying on introduced rodents and other invasive species. In 2005, the Pueo was state-listed as an endangered species, followed by the declining populations of other short-eared owls in Europe and North America. Their decline resulted due to habitat disturbance and a reduced population of small mammals.The Pueo Project dedicates their time in researching the two needs of the Pueo: improving population monitoring and defining habitats important to population stability.
Strawai'i bamboo straws come in various sizes and are perfect for both 🍹ice cold smoothies and ☕️steaming hot coffees alike. 
Your bamboo straws are safe and ready for use. Nonetheless, we always recommend rinsing before the first use.
Straw Cleaning Instructions
 Bamboo straws are simpler to care for than we think.
They are washable in a dishwasher - yes, completely dishwasher-safe. Your bamboo straw has been sanitized in boiling water for 10 minutes and sun-dried. 

To maintain bamboo's natural structure and antimicrobial properties, please try to wash your bamboo straws after every use. A rinse with warm water should suffice, but you may also wash it with soap on a regular basis. A straw brush/cleaner can also be used.
Shortening Your Straw
Our coffee straws are shipped a little long, both due to us wanting to use as much of the bamboo as possible, and also so you can use it in any size container. However, if you find your straw too long for your liking, you can easily shorten it. All you have to do is sand down the ends to your desired length, and then rinse before use. A belt or disk sander works best, but you can do it by hand in just a few minutes.